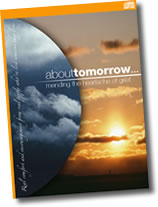 Press releases and other relevant documents are available for download in both Microsoft Word and Adobe pdf files.

Click on an icon to download in your preferred format.

News Release - September 24, 2008
"New CD Offers Practical, Caring Help for the Grieving Process"
Story Idea - September 24, 2008
"About Tomorrow Producer Has a Special Connection to His Audience"
Product Fact Sheet
About Tomorrow: Mending the Heartache of Grief
Current Endorsements
About Tomorrow: Mending the Heartache of Grief