This original audio program features the first-hand perspectives of more than 20 people who have walked through the pain of grief.

Their honest, open, and sometimes emotional comments will bring you the comfort of knowing that you're not alone... the confidence that someone does understand... the assurance that your feelings are normal. You'll learn how to navigate your way through this dark emotional valley.

And you'll discover that even though life will never be the same, it can still be very, very good.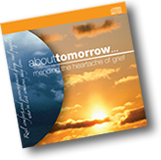 About tomorrow is designed for those making their way through the first few months after a loss. Preview selected portions or the entire program online. You can also order a copy for you or a grieving friend today.
For pastors, counselors, and others dealing with people in bereavement, About Tomorrow is a wonderful resource to be able to offer those dealing with the death of a spouse, friend, or even the death of a child. Through the caring testimonies from people who have dealt with the loss of a loved one, others can find comfort, hope, and healing through their grief.